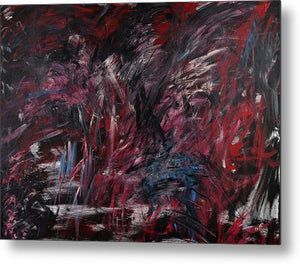 "A New Path",  Metal print by Kathleen Sullivan.   
Painting is not always just happy however, the process of painting to music, reaching inward for raw expression of emotion onto the canvas is one of the most positive experiences a human can embrace.  "A New Path," mirrors the artist's feelings of darkness, moving toward self renewal, peace, and embracing the gift of a new life awaiting.  A journey of healing.....   
The aluminum sheet is offset from the wall by a 3/4" thick wooden frame which is attached to the back. The high gloss of the aluminum sheet complements the rich colors of any image to produce stunning results.